Roll Back Taxes Videos
There are 600,000 workers in Massachusetts desperately looking for full time jobs. Half have no jobs, they've had their pay cut 100%. The other half can only find part time jobs, so their pay has been cut 25% to 50%. Our state legislature has done nothing to help create private sector jobs.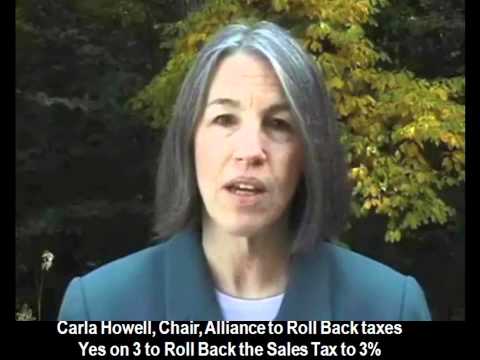 Please pass this around to your friends, family, coworkers and neighbors now!
In a recent debate State Representative Dan Webster urged voters to vote YES on 3 to Roll Back the Sales Tax to 3%
Hot video! Please pass this around to your friends, family, coworkers and neighbors now! What every voter and taxpayer needs to know:
Tom Keyes is an efficiency expert, former chairman of the board of selectmen for the town of Sandwich.
http://audio.wrko.com/m/audio/34795619/carla-howell-on-question-3.htm
Watch the debate between Carla Howell and Steve Crawford
Carla Howell's debate with Michael Widmer on NECN hosted by Jim Braude.  Watch the debate here
Watch the 7-minute debate between Carla Howell – for YES on 3 to Roll Back the Sales Tax to 3% – and NECN host of Broadside, Jim Braude, who opposes.
Via NECN: (NECN: Tom Langford – ) – Saturday is the start of a sales tax holiday in Massachusetts. Shoppers are expected to make millions of dollars in tax-free purchases this weekend The Massachusetts Retailers Association says stores are expected to see about five times the business of a normal August weekend, meaning hundreds of [...]
Republican Primary candidate for Massachusetts State Auditor Kamal Jain strongly endorses ballot Question 3 to roll back the sales tax to 3%. In fact, he's a co-signer of the original petition. Check it out! Kamal Jain's vision of Total Transparency would make rolling back the sales tax to 3% easy. With his plan to put [...]
9-27-10 carla howell interview
Watch Brad Marston, Candidate for State Representative – 8th Suffolk District, endorsement of Question 3
Earl Sholley, candidate for the MA 4th Congressional seat, endorses 'Yes on Question #3′.  Click play on the video and he'll explain why!
Voters Weigh In On Slashing Sales Tax On Ballot http://www.thebostonchannel.com/video/25091298/detail.html
RollbackTaxes.com Video
Problem retrieving videos from provider: Gone
Spread the Word!
Search
Upcoming Events
Find Us Online
Media Inquiries
and Requests for Speakers
For media interviews, or to have a spokesperson present to your group (classrooms, social groups, churches, town halls, political organizations and events, rallies, etc.), please contact the Alliance to Roll Back Taxes.